I've been thinking a lot about a couple very strategic items lately. The most important is how we deal holistically with the whole issue of when a crisis breaks out. It seems to me that there are three main needs for any disaster:
Coordination
Community
Information
At Ushahidi we're dealing pretty heavily with the information part of the equation, but not doing a whole lot about the other two yet. This struck me particularly hard when I saw what Andy Carvin and crew did around hurricane Gustav, and are getting set to do with the other hurricanes this season (see links below). They not only had a map aggregating information, but set up a wiki (coordination), and a Ning.com site (community interaction). Cobbled together, not pretty, but effective.
What can we learn from this at Ushahidi? Where can we plug into other community-led efforts and offer our expertise and resource to help build a more open and effective toolbox for individuals and groups trying to make something good happen in a bad situation?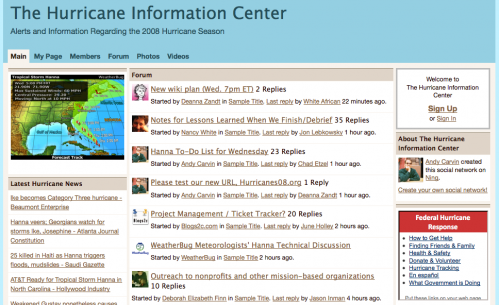 Learning from Gustav
Take the hurricane Gustav work done by Andy Carvin, Andrew Turner (and many others) as a model:
Think holistically about it, what is really needed when a crisis/disaster arises? Back to our 3 strong list:
Coordination: With local organizations (Gov't, Non-profit, Communities – virtual and real, tools and technology)
Community: For input, For finding out what's happening, dealing with issing persons
Information: Aggregation and filtering tools and processes
Ideas for Ushahidi
The whole ecosystem needs to work together, needs to be painless to setup and use
Create an instance of Ushahidi (when hosted on Ushahidi.com, or when selected), that automatically creates a new entry/section on a Wiki for coordination and information
Automatically creates a Forum section too? – Separation between "reports" and "discussion" around a disaster, but easy to find both in main nav.
More importantly, dealing with suggestions like the one made by Deanna Zandt about creating a new wiki plan for hurricanes. It seems to me that we might at the least get involved with this idea and see how we can help, as there is clearly some overlap in ideology.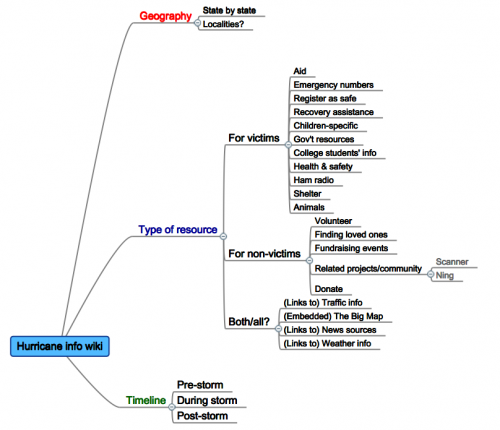 (download PDF of the above image)